---
Himi City Guide
The Tateyama Mountain Range over the sea

The Tateyama Mountain Range viewed from the Himi Coast towering over Toyama Bay is the symbol of Himi City. The panoramic view of this 3,000-meter high mountain range, which changes its appearance depending on the season and time of day, fascinates people with its incredible beauty.
| | | |
| --- | --- | --- |
| | | In Toyama Bay, which is referred to as a "natural fish tank," various types of fish can be caught all year round. You can enjoy fresh seafood, including Himi's winter yellowtail, which is famous all over Japan, spring sardines, and summer bluefin tuna. There are many other fishing sites in Japan, but the fish that are caught off the coast of Himi are particularly prized, and widely known as "brand-name fish." |
Unforgettable sunrises

You can enjoy seasonal panoramic views of the Japan Sea and Tateyama Mountain Range over the sea in Himi. The view of the rising sun from the Himi Coast is superb; it is considered to be one of "Japan's one hundred best views." If the forecast is for fine weather, how about getting up early to see the sunrise? This is one of the ways to enjoy Himi.
A wealth of seafood and traditional fishing

Because of its abundance of fish, Toyama Bay is referred to as a "natural fish tank." The method of catching fish without damaging it is called "Etchu -style fixed-net fishing." Chilling the fish caught by means of a fixed net in ice water while in the boat off the shore is the key for keeping it fresh. A passion for freshness is the reason why fish caught in Himi is so delicious.
Marumage Festival

Marumage Festival originates from the story of geiko (geisha girls) who went to Senjuji Temple to pray for a happy marriage in marumage style (with their hair in a chignon, which is the hairstyle of married women). Every year on April 17th, a parade of unmarried women in colorful kimono wends its way along the streets led by girls wearing flower-hats. (These days, anyone can sign up to join the parade.)
Fujiko Fujio Ⓐ Manga World

Himi City is the hometown of Fujiko Fujio Ⓐ, the great master of comics who created masterpieces such as "Ninja Hattori-kun" and "Kaibutsu-kun." Monuments of popular characters welcome visitors to the central area of the city.
Ninja Hattori-kun Automaton Clock and Pro Golfer Saru Pocket Park are popular spots for photos. You can see a great collection of his works at Himi City Shiokaze Gallery (Fujiko Fujio Ⓐ Art Collection).
Himi Hot Spring Resort

Hot spring facilities are dotted around the northern coastal area of the city. The hot spring water is said to be effective for cuts, burns, chronic skin diseases, chronic women's diseases, etc. The spring water, which contains sodium, is popular among female guests, who come for its beautifying effect. There are many guest houses with good-quality hot spring baths, beautiful landscapes and delicious food.
Cultural Properties

Himi has a number of historical sites from various periods in history. The Ozakai cave-dwelling ruins were formed by wave erosion about 6,000 years ago. They were discovered as a result of the first excavation in Japan. In addition, the ginkgo tree at Jonichiji Temple, designated as a national natural treasure, is estimated to be over 1,000 years old. Its trunk circumference of about 12m makes it one of the largest female trees in the country, and it is venerated as a sacred tree.
■Delicious food-Which do you like, fish, meat, or both? Himi's restaurants have them all for you!-
| | | |
| --- | --- | --- |
| | | Delicious fish goes with good sake. Dry local sake produced with Himi's food culture in mind, and local wine made from grapes cultivated at the foot of the mountains are highly acclaimed. |
| | | |
| --- | --- | --- |
| | | Himi City is Toyama's largest beef production site. Himi Beef has the ideal flesh quality, freshness and proportion of fat. The cattle are raised with love, and they have freedom to roam in a hilly and mountainous area. They are given well-balanced feed that is produced in-house, and raised by farmers who are highly skilled in the fattening techniques that result in delicious beef. |
| | | |
| --- | --- | --- |
| | | In the winter yellowtail season, "Himi Buri Fair" is held at about 40 inns, hotels and restaurants. People can fully enjoy yellowtail dishes made from every part of the fish, including the head and tail, such as sashimi, buri-shabu (thinly sliced yellowtail parboiled in hot soup) and buri-daikon (yellowtail cooked with daikon radish). |
Himi boasts not only fish and meat, but also "Himi rice" and "Himi udon (noodles)." Himi Zanmai Gozen, a set menu of
dishes made with ingredients from the sea, mountains and fields of Himi is available year-round at various inns, hotels
and restaurants.
■「Access to Himi」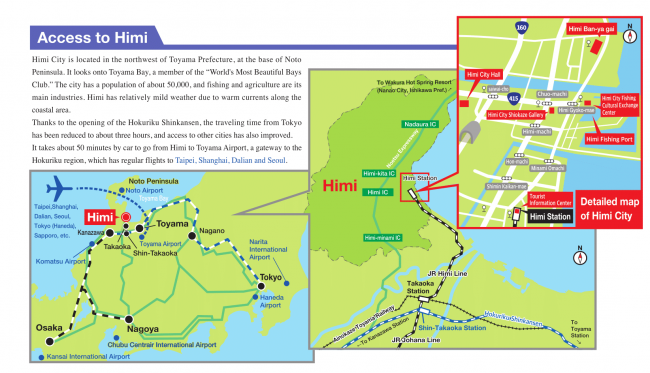 ■「Access by public transportation」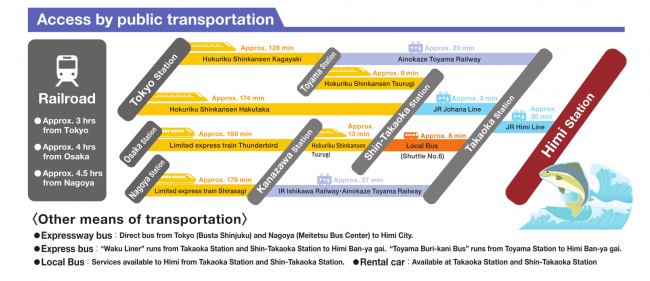 ■「Surrounding sightseeing spots」,「Inquiries」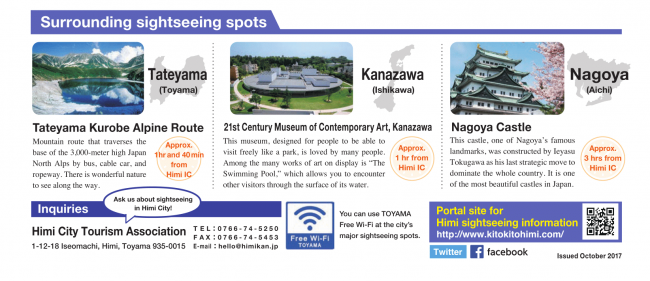 PDF download [PDFファイル/1.16MB]